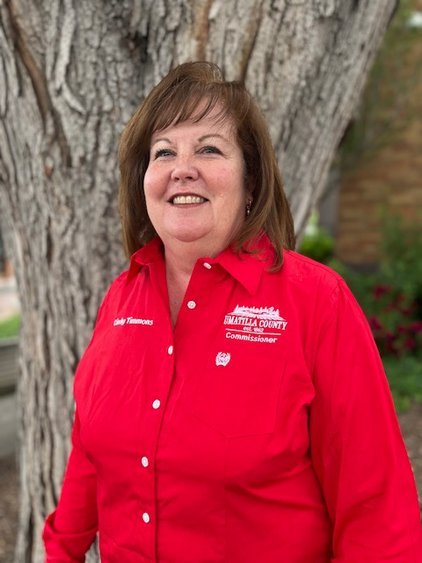 Commissioner Position #1
Cindy Timmons
Contact Information:
541-278-6202
cindy.timmons@umatillacounty.gov
Commissioner Celinda (Cindy) Timmons, a 4th generation Umatilla County resident, grew up on a farm between Milton Freewater and Umapine. A proud graduate of Mac-Hi, Cindy was heavily involved in 4-H, F.F.A. and other civic organizations - traditions carried on into adulthood. She is proud to share she is a farm girl at heart - learning how to drive using a 1957 Dodge Power Wagon and an Allis-Chalmers tractor. Both can be found in her barn today.
Cindy married Steve Timmons over 4 decades ago. The couple have three married children and one grandchild - so far! Steve and Cindy have owned Marv's Glass Shop, Inc., a family business, for almost as many years serving 10 counties in NE Oregon/SE Washington. The company is proud to have changed the skyline throughout the region by involvement in both residential and commercial projects.
Commissioner Timmons holds both Bachelors and Masters degrees from Eastern Oregon University in Business Administration. The business owner has enjoyed a wide range of employment titles throughout the years, most recently employed by Oregon State University Extension and Blue Mountain Community College.
A favored pastime, for many years, was writing under the pseudonym Spencer Shelton. Personal interest stories, and trending topics, produced many articles for the Valley Herald newspaper. Use of a pseudonym was often entertaining - when good friends and family had no idea who Spencer Shelton was.